The one and only Jonny Porkpie, Burlesque Mayor of New York, recently visited London to promote his book The Corpse Wore Pasties, and I was lucky enough to get my hands on a copy.  His novella is published by Hard Case Crime who specialise in crime fiction in the style of the 40s and 50s (think Raymond Chandler).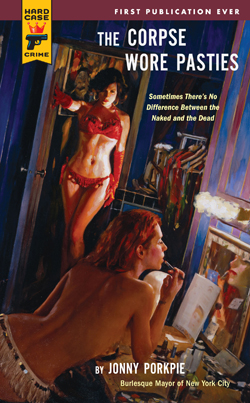 The Corpse Wore Pasties is a light, entertaining journey through the NYC burlesque scene after someone brazenly murders a burlesque performer during her act.
After finding himself the prime suspect in the crime, Jonny Porkpie, as the book's protagonist, has no choice but to go rogue and try to track down the killer himself, coming up against crazed heavy-metalers, pull-no-punches New York cops and quite possibly a deranged murderer with a penchant for rhinestones.  Not to mention the boobs.  He comes up against quite a lot of ample bosoms on his investigative foray.
Sexy, genuinely funny, and with a great twist at the end, this is the perfect book for anyone with an interest in the burlesque scene and the PI stories of yore.
http://www.hardcasecrime.com/books_bios.cgi?title=The%20Corpse%20Wore%20Pasties